CentrePoint
CentrePoint has been specifically designed for the Australian market to fulfil the central bathroom floor waste requirement, and to provide matching grate designs throughout the bathroom.
CentrePoint - features
CentrePoint 100mm diameter vertical outlet
Range of grade 304 stainless steel electropolished designer grates available
Optional accessories include water activated LED lights and debris strainer (see Accessories)
Lockable grates available with boltless mechanisms
Chromed ABS or stainless steel bodies available
Adaptable to DN80 pipe connection
CentrePoint - product details
Please note there is limited stock of standard QuARTz by ACO products – please check availability with ACO.
Product Data Table
Part No (100mm∅)
Spec Info
Quadrato - Lockable

141112
Mix - Lockable

141115
Mix - Non-lockable

141579
Pixel - Lockable

141184
Pixel - Non-lockable

141580
Tile

141470
Linéaire

40351595
A number of items are available to enhance the aesthetics and performance of QuARTz by ACO products.
Grate Lifter
Grate lifters are standard with each system and assist with grate removal during maintenance.
| Description | Part No. | Weight (kg) |
| --- | --- | --- |
| Additional grate lifter | 0150.27.83 | 0.1 |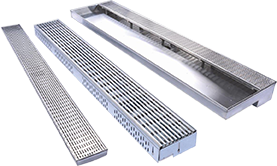 Stormwater drains for building protection

ACO offer a range of stainless steel drainage products to be installed in both stormwater and wastewater applications in buildings to remove water from floor surfaces inside and around buildings that are frequently wet.
For more info, click here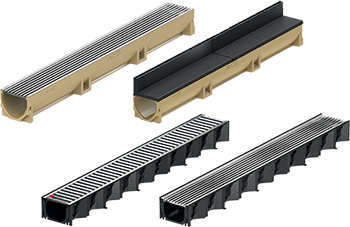 DIY garage and driveway drains

ACO Self is a range of building products offerig the same quality and design excellence as ACO's commercial products, but are designed to meet the demands and budget of home owners.
For more info, click here